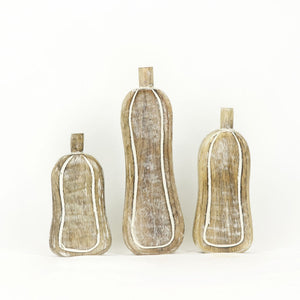 These mango wood pumpkins will make your night a bit more magical!  They come in a set of three and feature neutral white colors. Each shape comes in different sizes and dimensions. 
Dimensions: small - 3.5" x 6.5" x 1"; medium - 3.25" x 8" x 1"; large - 3.5" x 10" x 1.5"
**Mango wood is a natural product and each item is hand-carved, so no two will be exactly alike. There will also be naturally occurring variations in color tones from piece to piece"